---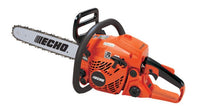 5 Year Warranty included!
Echo CS-420ES Top Handle Chainsaw 40.2cc
The ECHO CS420ES petrol chainsaw has a 40.2cc engine and Easy Start for almost effortless starting.
Useful features include a tool-less air filter cover allowing easy air filter access, even when wearing gloves; a side access chain tensioner enables easy chain adjustment; the anti-icing system prevents the carburettor from freezing in colder months.
With a (15") guide bar, the CS-420ES is a mid-range, low emission chainsaw that could be used by tree surgeons or farmers for felling trees and logging.
Engine Displacement: 40.2cc
Bar Length: 38cm (15")
Ouput: 1.60kw
Fuel Tank Capacity: 0.41 litres
Start Assist System: ES-Start
Fuel Consumption at Max Engine Power: 0.95 L/h
Saw Chain Pitch: 0.325