---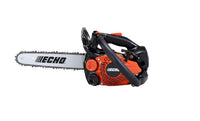 The ECHO CS2511TES top handle arborist chainsaw is ECHO's lightest and most compact saw. Weighing just 2.3kg and with an ergonomic compact design, the saw is easy to manoeuvre and can be used for long periods with little fatigue. At the same time, the engine is powerful meaning this machine has a superior power-to-weight ratio. Featuers include grouped controls, an ergonomic top handle and swing-out lanyard ring, making it ideal for easy climbing.
ECHO CS 2511TES is designed to be operated one handed and therefore can only be sold to trained professional tree surgeons who are suitable qualified.
Engine Displacement: 25cc
Bar Length: 25cm (10")
Ouput: 1.10kw
Fuel Tank Capacity: 1.9 litres
Start Assist System: ES-Start
Fuel Consumption at Max Engine Power: 0.67 L/h
Saw Chain Pitch: 1/4"