---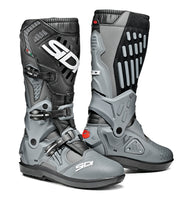 In order to consistently provide a rider with good steering perception and a feeling of perfect synchronicity with their motorcycle, a motocross boot must be resistant, comfortable and produced with the highest quality materials.

ATOJO SRS is the new motocross boot designed and developed by Sidi specifically to meet these requirements.

This innovative boot contains all the essential features that a motocross boot must have. Furthermore, this boot weighs significantly less compared to previous models, yet hasn't compromised performance, comfort or protection.

The height of the boot, as well as other details, fully reflect the demands of the professional athletes.