---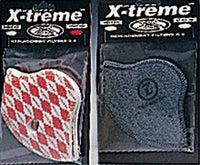 This Filter Pack contains two replacement filters for use with your Respro® X-treme™ Mask.
This filter has sub-micron filtration capability. What this means is that it is able to trap particles less than one micron in size which is more than capable of the removal of 2.5 micron particulate material (PM).

Typically particulate pollution in the cities appears to be in the 2.5 micron size range and above.
Particles smaller than this are known as respirable dusts, which can lodge deep within the lungs and air sacs.
This is the more dangerous type of particle pollution as chemicals from vehicle exhaust gases combustion known to be toxic, are carried by means of the respirable particles.
Hence the need for a Hepa-type submicron particle filter.